Review: The #creakybottombracket 2016 Holiday Gift List
(2016) It's that time of year again where we distract ourselves from work and horrible elections by cruising the cycling websites. Over the course of the year we've found items that have struck our fancy by reflecting the culture of today's cyclist.
Despite not caring for holiday lists, we decided to pursue this genre for a second year after recently reading a cycling magazine. We digitally swiped through six pages of big name advertisements preceding the feature material. Wouldn't you know that same company's apparel was featured as a climbing kit wanted by the publication? Here at creakybottombracket.com, we forward what we think is attractive for the upcoming year and report it, not because someone paid us advertising space.
Below you'll find events, accessories, coffee and beer, and even shaving material. These are all embodiments of the cycling culture. The prices ascend as one scrolls downward. We still don't know if anyone legitimately gets a complete bike for the holidays but who knows? Maybe leaving our site up on the family computer just may be the final hint needed to make it happen. Else, peruse our thoughts and keep these companies in mind next time you're in the market for something cycling related. From all of us at Creaky Bottom Bracket, happy holidays!
Long Rifle Bay Rhum Shave Soap ($10)
There is nothing more relaxing after a cold hard winter ride than shaving off the protective beard grown over an entire week. It's why the weeklong beard is grown: to anticipate a cold weekend ride. To hack it off for the workweek is not enjoyable with poor quality shaving products.
We got our hands on a sample tin of Long Rifle Bay Rhum shave soap and found it to be an incredible scent. Bay Rhum is one of those scents that make a man wonder how bad it would be to eat the soap based on smell alone. The soap lathered up well and left a manly fragrance in the room after all was said and done. After battering your face on a cold ride, why not take care of it with Bay Rhum Shave Soap to make amends with yourself? Good luck not admiring the close shave for the remainder of the day. You'll be happy with this slick soap out of Wisconsin.
PONGO London Staples Collections Socks (£15)
There has been quite the focus on sock game from the cycling crowd over the past few years. I've enjoyed watching sock makers develop customizable looks for cyclists. The days of picking from five different length white socks are thankfully gone, as demonstrated by PONGO London and their collections.
There's not really much wiggle room when it comes to sock design. All it is is a tube visible from the shoe to the calf. In that small amount of space designers go to work to create custom patterns.
We've noticed PONGO for some time because of their relationship with Rouleur Magazine. We've lusted over their Staples Collection because of the perfectly matching sock within. Their orange sock with black polka dots would look nicely on our site as well as with our race team's kit. Figure in a toe box that matches the blue on our site and our desires are set. We want these socks. At the frugal end of our list, one may find these wrapped up with our name on the package this holiday season.
Homestead Coffee Gift Box ($36.50)
By now it should be readily apparent that Homestead Coffee from Upper Black Eddy, PA, is impressive quality. The Homestead General Store is often a destination for our offseason rides. The store is aptly stocked with mid-ride fuel and coffee, or one can just soak up the atmosphere for a couple of hours before convincing the body to pedal home. It can also serve as our homebase in our attempt to ride farther north than normal.
Homestead has continued their quality tradition for this year's holiday season with their coffee gift box. There are many notable attributes to their gift box that it's hard to know where to start. Local artist Melissa Rothman beautifully designs the box itself. Inside the deep red box are three bags of quality coffee plus a tin of seasonal Winter Roast. That's a lot of coffee for the price tag. The final attractive bit is the double-walled insulated travel mug adorned with the Homestead Coffee logo. (They're selling fast; hopefully one will still be there on my next visit.)
Whether you're pulling your own shots of espresso or you're just a fan of artisanal coffee roasting, Homestead Coffee Roasters Gift Box is truly an unbeatable gift for someone this holiday season.
Silca Seat Roll Premio ($49 without tools)
We've never been fans of saddlebags. Half of the time they've become storage units that flops around when out of the saddle or unnecessarily weighs the bike down. Some bags are downright ludicrous in their size. Just how many flats do you anticipate? Maybe some less treacherous roads should be taken. At some point I'll just call home if enough punctures have happened.
However, Silca – notably famous for their pumps – has come out with a seat roll that just may make us consider some farther ventures from home. The waxed canvas roll comes with pocketed holds for two cartridges, one tube, and a multitool. That's exactly what gets stuffed into the cycling wallet on every ride. Doubling the coping management category with the Silca Seat Roll could give us confidence to ride well beyond the regular distances (after already getting more northerly with a stop at Homestead General Store). With a BOA closure system, the roll looks easy to use and install.
With its clean lines and compact look, riders behind you won't wonder if you've strapped a hockey bag under your saddle, or worse, wonder what's inside the gargantuan bag.
Hill Farmstead Brewery, Vermont, Limited Release (Price varies, plus the cost of driving to Vermont, standing in line, Paid Time-Off from work, etc.)
Last year we put a bottle of ultra-rare whiskey on the list and couldn't procure even a glimpse of one bottle. This year we decided to continue with wishful thinking in the form of Hill Farmstead Brewery beer.
Recently written up on bbc.com, Hill Farmstead Brewery is known for making extremely rare beers. It's one thing to be rare, but it's another to be rare, quality, and have a cult-like following. If you think Heady Topper is hard to get, Hill Farmstead takes it one further by making the equivalent of Heady Topper once. And that's it.
Recently the bourbon maple porter was the object of our fancy. Naturally by the time we finished the thought, the variety changed. I would put something up that replaced it but by the time I finished the sentence, they will have moved on. In the bbc.com article, Hill Farmstead is one of a handful of breweries that can be found by sighting a line of devotees standing in the freezing cold with empty growlers waiting for the brewery to open.
Since Vermont is the unofficial American home to maple syrup (Hill Farmstead offers bourbon barrel aged syrup), we hope that one single growler finds its way to the creakybottombracket.com offices. If it does, we will simply close shop and imbibe. Until then though, Hill Farmstead Brewery offerings will go into our imagination cabinet, next to that rare Pappy van Winkle whiskey.
Grand Tour Cookbook ($60 for Hardcover)
Each year we add to the cookbook shelf in our offices with cycling-inspired books. This year we would like to add the Grand Tour Cookbook by Hannah Grant to the shelf. Team chef for last year's Tinkoff Saxo team, Hannah Grant published a 350-page cookbook loaded with European dishes. We couldn't be happier to see a book like this come to market.
American cooking is typically labeled as comfort food, so having a Euro-flare option in the kitchen can bring about a nice change of pace. Loaded with rider contributions as well as recipes for underestimated celeriac or trendy quinoa, this might be the style of cooking many of us strive for.
Throw in full color photos and metric measuring and it will be easy to feel like a member of a Pro Tour team. Unfortunately though, we've not heard of anyone climbing any faster from Gran Tour chefs' offerings. That's another shelf of books.
Entry into Pennsylvania Dutch Farm to Fork Fondo ($115)
We're still in the golden period of two styles: farm style eating and gran fondos. Put the two together in Lancaster, PA, and Wrenegade Sports returns for a second year with a strong product.
Side stepping any sort of big farm productions, the Amish community makes food that looks great but most importantly, tastes great. After a couple Smoketown Crit races, we've stopped at the Bird in Hand farmer's market several times. We proceeded to overestimate the number of calories burnt in the race to justify purchasing their sugary treats. The food from this area is rich and like coming home.
Meanwhile on the cycling front, fondos continue to dig into the racing scene's moxie. The numbers continue to grow while race participation dips. What used to be large group rides are now experiences for hundreds of riders. Each ride now has a theme. Race a train, explore unpaved roads, or ride from farm table to farm table in Wrenegade Sports' Farm to Fork Fondo. Considering the extra attention needed to navigate these roads due to horse and buggies as well as scooters, the roads will be a little more welcoming than back home.
Since the Lancaster Farm to Fork Fondo is returning for its second year, plan on taking advantage of a ride that may actually make you gain weight throughout their several courses. With distances from ten miles to 110 miles, there's something for everyone.
Belgian Boys Club Tommeke Bib Tights (€170)
By now you should know we love Belgian Boys Club gear. We love the fit. We love the style. We love the small batch approach. Just as much as we love the Tommeke bib shorts that came out last year, we want to add the bib tights to our cycling closet.
Talk about a corner of the cycling apparel industry that needs attention to detail, bib tights seem to never fit right or settle into the right spot. It makes a rider think the efforts of cycling apparel companies are 'good enough'. Considering Belgian Boys Club incessant attention to detail, we feel this will easily be some of the best bib tights ever.
Taking a moment to think about the crowds who purchase bib tights, they are most likely riding in less-than-ideal conditions, BBC touts these bibs with windproofing and water repellant treatment. Further details includes ThermoRoubaix to keep the pins warm throughout a winter ride, ready for a Strava segment, as well as reflective detailing to make sure you're seen.
Belgian Boys Club offerings are perfect gifts in the aspect that they are a combination of unique and quality. Just be prepared to have one less reason to avoid the next cold weather ride. *We struggled to narrow down some Belgian Boys Club winter gear, so we threw in the Eddy arm and leg warmers just because. And then we added the Antwerpen Long Sleeve.
Jaggad Jailbreak Jersey ($180 AUS)
A couple years back the Australian- based Jaggad revamped their whole style by shutting down operations and restarting. What followed was some brow-raising style that certainly made them stand out in an increasingly popular market.
One of the garments that made an impression was the Jailbreak Jersey. The classic combination of navy blue and white stripes creates a simple yet high style. The subtle pink Jaggad nameplate adds to the catchiness of it all. But what really stands out are the elongated sleeves of this jersey. For the longest time, broad shouldered riders had to endure looking ridiculous in extremely short sleeved jerseys because the only other option was to cut the sleeves off a long sleeved jersey. Jaggad jumped right in with a jersey that stops at the elbow, adding to the style of the jersey.
With the addition of their classic styled bibs, this look could certainly turn some heads as the local group ride. The best part is that Jaggad creates other stylish jerseys. If you were beaten in a sprint last week, throw on another jersey offering next week and have another go. At least you'll still be stylish whatever the outcome.
Rescue Project Kit (price varies)
Aside from great coffee, craft brews, Untapped maple, and dollar handups, nothing goes better with cycling than dogs. Dogs fill a void in the cycling world to make it whole. Just look at Lily Shreds, the world famous trail dog.
The fact that Rescue Project is a fan of cycling is even more heartwarming considering proceeds from Castelli kit purchases go toward the dog rescue. Each year Rescue Project designs a new kit. Each year we were looking the wrong direction and missed the pre-order. This time we vow to get on the Rescue wagon to help dogs in need and to help us look cool on the road.
The kits are well designed and catchy. They stand out in a group ride and provide a great conversation starter. Anyone familiar with Castelli products knows they are getting a quality product. The problem is, you need to pounce when Rescue Project is offering pre-orders, and that's why we're pining after these kits. If you miss the order, there is some leftover apparel. But if you really miss the bus, Rescue Project offers a whole shop of gear designed toward cyclist and dog-of-a-cyclist alike. When you open your wallet to pre-order a Rescue Project kit, you're opening a chance for another dog to find a happy home. That's exactly the holiday spirit we're striving for.
Joe Edson Custom Straight Razors ($325 and up)
During my teaching of Beowulf, I discovered a video where a vintage blacksmith – one who uses only technology from the Beowulf era – unsheathed a sword of the period that had beautiful swirling lines on the blade. It looked much like the rings of a tree after one has chopped it down. The smith would go on to explain that iron, when twisted while hot, creates those brilliant lines.
Look through some of Joe Edson's custom straight razors, and those lines show through on his steel. While straight razors are based in antiquity, that hasn't stopped people from carrying on the tradition, even bringing it back into style. When you place an order with Joe Edson, you can bet you'll be the only person sporting a straight razor like that in the world.
Leaf through his collection from his website (which links to his Instagram account) and you'll see shiny steel as well as matted black blades. There are razors with and without scales. Whichever arrangement of razor you choose you will certainly receive quality.
Contact him to get in the queue for 2017 custom orders. Otherwise, swipe through his Instagram account to find available vintage restored razors for the remainder of the year. Until we win a couple of sprint primes, an Edson straight razor will be on our wish list. It may take up space on the list for quite a few years.
Giro Factor and Factress Techlace Shoes ($350)
We imagine the argument at Giro design headquarters going something like this: "BOA is better." "No, Velcro is better!" "Guys, clearly lace-ups are the way to go with bike shoes." At that moment, the design manager walked by and jokingly said, "How about putting all three on one shoe?" Behold the Giro Factor/ Factress Techlace cycling shoe.
At creakybottombracket.com, we love lace ups. The one argument we have no comeback for is micro adjustments cannot be made with lace-ups. This is a slight setback for an otherwise stylish and functional type of cycling shoe. While the wearer doesn't physically tie off the shoes, looking down can make the one think s/he is wearing them based on the binding system. Velcro closures pull the laces tight and the BOA system tightens the top of the shoe into place. It can be micro adjusted on the fly to get you ready for the sprint finish.
When a shoe puts every closure option available to the cycling industry, how could any detractor find complaint with it?
Super Strada Gulf Racing World Kit by Jakroo ($400 total)
Anyone who has been a fan of endurance motorsports can identify our website's colors. On one stormy night, I decided to Google Gulf racing cycling and angels began to sing when I got the search returns. Once I picked myself up off the floor, I decided I needed to have this kit and extra jersey.
Officially licensed from Gulf, and working in tandem with the Ritte Gulf Bike, Super Strada came out with a line of Gulf apparel for the cycling crowd. This continues the incredibly easy to identify colors of the petrol company. Light blue, dark orange, white, and black is such a timeless assemblage of colors that it was only natural to migrate it over to cycling.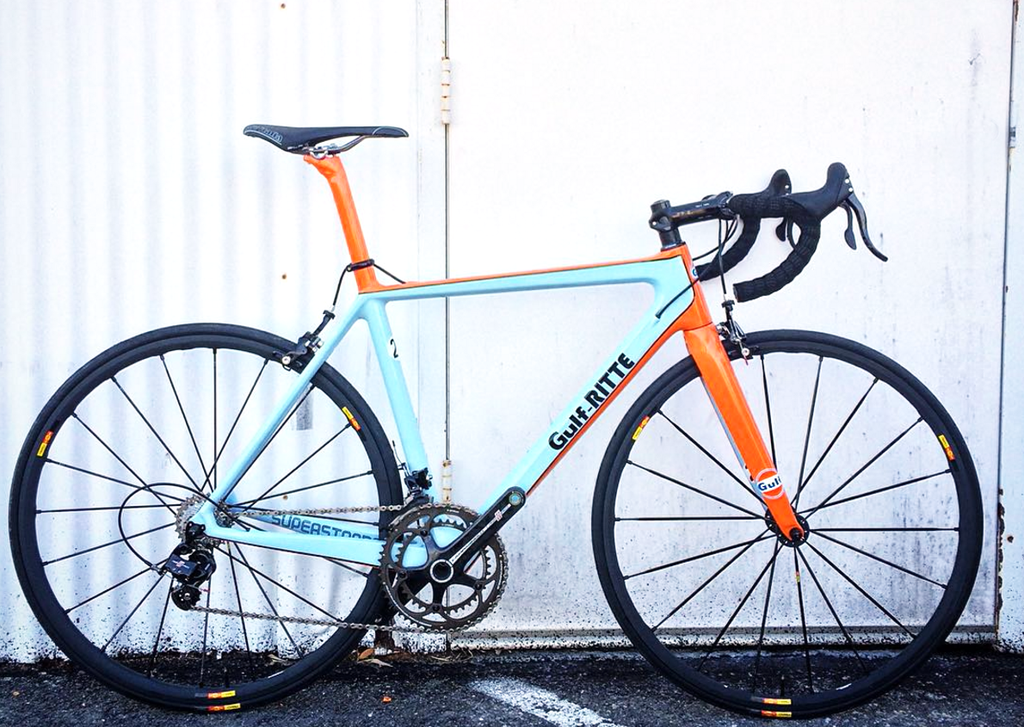 The kit itself is a thing of beauty. It includes the deep orange color sported by the GT40s of the 1960s and the later Porsche era. But the best part is the second jersey. Want to feel like a racecar driver? Super Strada sports a secreted jersey that mimics the look of a driver's suit. The matchy matchy is nearly too much to handle, but we'll take the explosive reaction in kind. We simply must have this arrangement for our cycling closet. This is one of those kits that come out but once or twice a year, with the same regularity as the 24 Hours of Le Mans. Maybe pulling the kit of the hanger the same weekend of the endurance motorsports race is the perfect time for it. Just do us all a solid and keep the racecar engine noises to a minimum.
Cielo Road Racer ($2575 frame, Chris King headset, and Enve fork)
Given the vociferous crowd demanding disc brakes on road bikes, it's no surprise people want something new and refreshing in the peloton. But what about the tried-tested-and-true steel offerings that were object of art as late as the 1990s? Chris King/ Cielo continues to crank out that old steel-is-real feel.
We love conversation starters here. Whether it's a kit that no one has seen yet, shoes not yet available, or socks that finish off the look, bike frames, too, can create the feeling of want. Cielo nestles perfectly in this belief.
With seven colors from which to choose, Cielo's Road Racer setup is a steel bike meant to dabble in the carbon-crazed world. Pair it with Chris King components and the ultimate made in America racer could toe the line at the next crit and be mistaken for all that blah-blah-blah about carbon's power transference and vibration dampening. And should things go wildly wrong, don't expect to carry two halves of a bike to your car with a steel frame.
With nearly every rider sporting carbon these days, why not throw it back to the dependable element of steel? This will certainly become the finest and trustiest bike you've ever pedaled.
Cover photo is the property of rapha.cc. It does not belong to me.